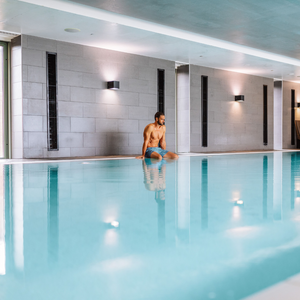 Health Club and Gym Membership Offer For Two
Shape up for the New Year and take advantage of attractive savings and benefits when you join Shangri-La Sydney's fully-equipped gym!
Get in shape and motivate together in a luxurious and bespoke environment.
Boasting fitness facilities that cater to both gentle or more strenuous training, our extensive workout studio presents 16 cardio machines and 15 strength training apparatus: treadmills, cross-trainers, rowing machines and bikes, as well as two dedicated weight training areas with barbells, benches, plates and bars.

Did we mention our sparkling indoor pool, hot whirlpool, and sun deck?
For a limited time, you can sign up with no joining fee (valued at AUD 100) and receive the following benefits:
Complimentary glass of Veuve champagne in Blu Bar on Level 36 when joining
Full access to the gymnasium plus indoor swimming pool, hot whirlpool bath and sundeck
10% discounted parking
Private locker for the 3-month duration including fresh training and shower towels and slippers
Access to shower facilities and amenities including shampoo
Access to a selection of newspapers and magazines
Lunch & Beverage Menu available within the Health Club
Three Month Memberships are priced at AUD 995 per couple. Fee must be paid upon joining and not to be used in conjunction with any other offer.

Health Club is open from 7am - 7pm Monday to Thursday, 7am - 8pm Friday and Saturday and 7am - 7pm Sunday.
For membership inquiries, or Public Holiday hours, please contact the Health Club team on (61 2) 9250 6253 or email healthclub.slsn@shangri-la.com.
Adding product to your cart
Sign up for our newsletter
Take advantage of exclusive special offers, packages and events